Local and National Fraud and Security News Stories
Links to external websites and stories are shared in good faith.
The Fraud and Security Management Service take no responsibility for the accuracy or content of any external website.
---
Automated phone call warning – Sept 2020
An NHS Trust has received several automated phone calls warning that the internet will be disconnected unless they press "1". Calls like this are attempted frauds. If the call receiver does press a number, they will be connected to a person who will then try to extract personal details which they can use to commit offences, or they will pressure the call receiver to take actions which will allow them remote access to the computer systems. Another trick which can be used is to connect the call to a premium rate number then keep the receiver hanging on the line in order to create a large phone bill.
You may receive calls like this to your home phones as well as hospital phones.

If you receive such a call:

– Hang up immediately.
– Do not speak.
– Do not press 1 (or any other key on the phone).
– Never give out information or answer any questions.
– Do not verify the call by using any information given during the call.
– If you do wish to make further enquiries, use a different phone, or wait at least 20 minutes before using the same phone (in case the original fraudster is still controlling the line).
---
Metropolitan Police release fraud awareness videos – Sept 2020
The Metropolitan Police have released five very short fraud awareness videos on the following subjects:
– Test and Trace
– Phishing
– Working from Home
– Vishing
– Ransomware
Most last less than a minute and provide clear advice to help you protect yourself against fraud.
---
Man arrested for stabbing NHS worker at Brighton hospital – July 2020
It has been reported that a man has been arrested on suspicion of attempted murder following an incident at the Royal Sussex County Hospital in Brighton, where a staff member was stabbed.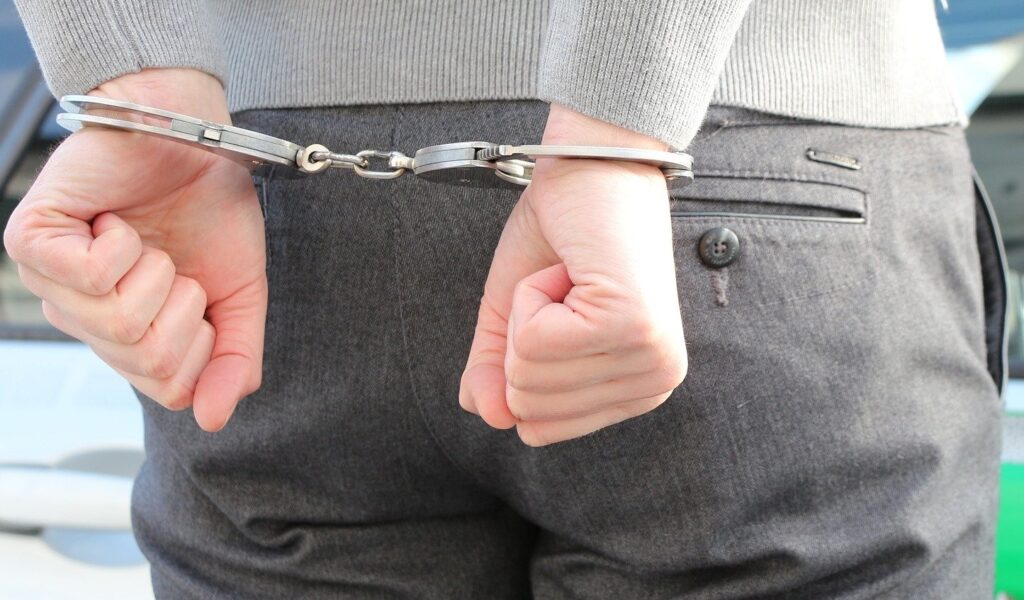 ---
DHL Invoice fraud – June 2020
It is reported that an NHS Trust Accounts Manager has received three emails in quick succession that appeared to be from DHL, The Trust concerned reported that it does have an account set up with DHL but it has never been used. The emails were sent to a named person in the Accounts Team who has never had dealings with DHL.
The emails, purported to have been issued by "DHL Accounts Dept" with an email address given as noreply@dhl.com, read: "Dear Customer, Please find attached letter concerning your overdue account This is a system generated email. Please do not respond to this email. Invoice Copies can be retrieved from MyBill If you have any questions or concerns, please email billing.help@dhl.com. Regards, DHL Express Accounts Dept."
If you receive a similar email from DHL, you are advised not to click on attachments and to contact DHL directly via a known phone number or email address to confirm whether there are any outstanding invoices. DHL have been informed with regards to these concerns.
You should also notify your LCFS who will be able to record this matter and offer guidance and direction.
---
Virus Alert – May 2020
The Fraud and Security Management Service have been made aware of an instance of a 'Harma Virus' infecting a local NHS network. The virus is spread through the opening of an email attachment. Harma is a ransomware which focuses on locking all personal files on the host machine and then demands ransom payment for the decryption tool.
It is important that you do not open any attachments that you are suspicious of or that appear out of the ordinary. Be particularly suspicious of emails from people you don't know or routinely do business with. Emails that purport to come from a known contact but are not written in their usual style can also be an indicator of a potential problem. Any suspected phishing/spam/scam emails can be reported to NHSmail directly at spamreports@nhs.net by attaching the suspicious email to a new email before sending it.
If you receive any popup messages that look suspicious such as: "Your files have been encrypted" please contact your IT Service Desk immediately and power off your computer straight away.
Further information on protecting yourself against cyber-crime can be found here and advice to protect against email fraud can be found here.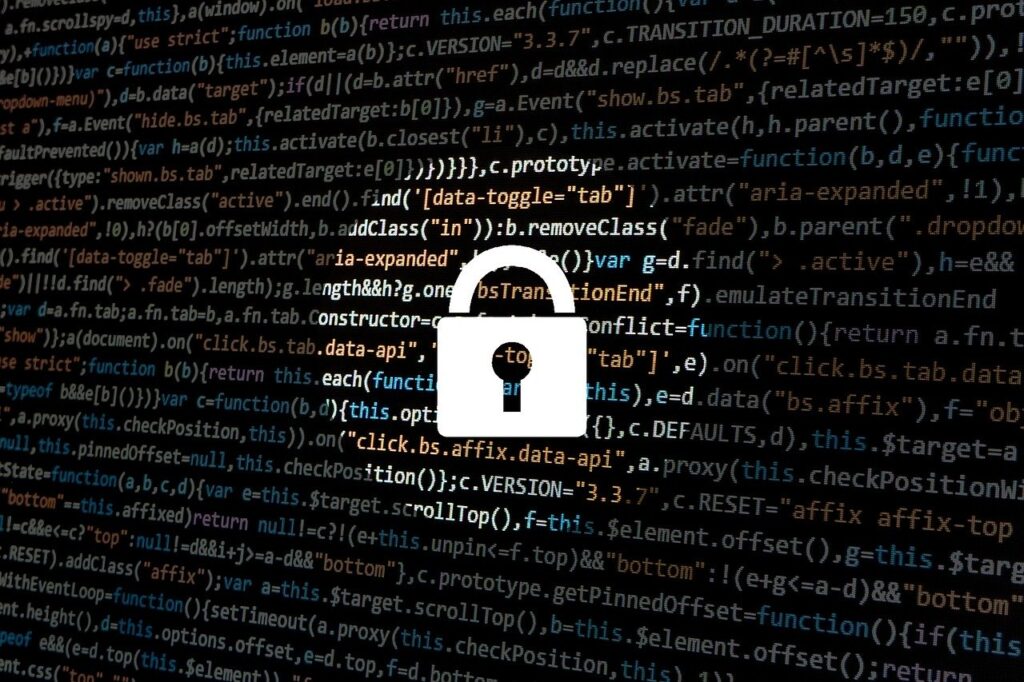 ---
Gang admits NHS gas canister thefts – May 2020
Four men from Norfolk have been told to expect substantial jail sentences after admitting stealing gas canisters from NHS hospitals.
Gas canisters are frequently targeted by criminals, especially during 'festival' season, it is recommended that they are always stored securely.
---
Manchester man imprisoned for NHS worker attack – May 2020
A 27 year old man of no fixed address in Manchester has been sent to prison for two years after attacking an NHS worker in Salford Royal Infirmary.
---
National Fraud News – NHSCFA Launches Expanded Reference Guide – April 2020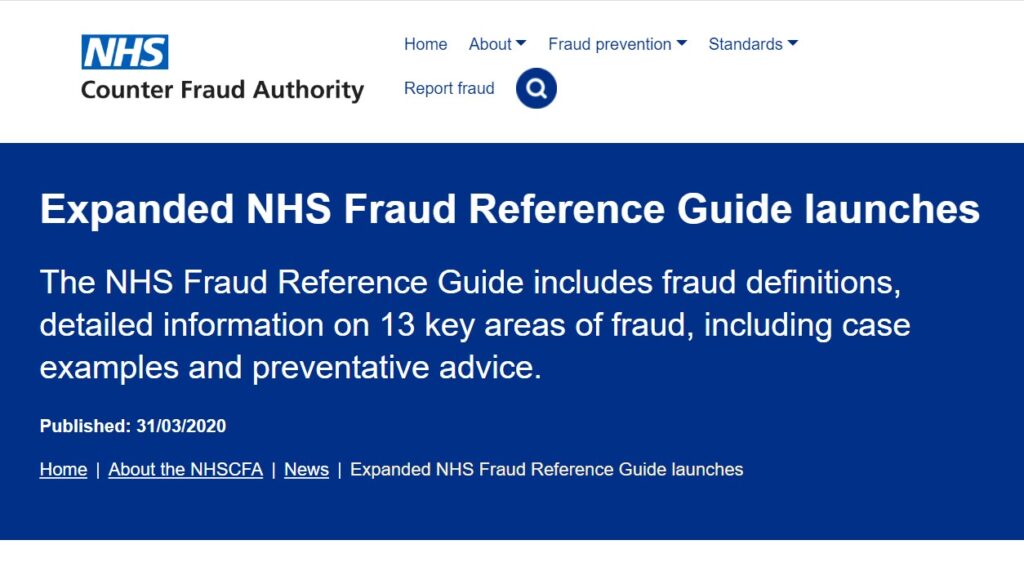 The NHS Counter Fraud Authority has launched an expanded fraud reference guide which provides fraud definitions and detailed information on thirteen key areas of fraud, including case examples and preventative advice. The guide can be accessed here.
---
Local Fraud and Security News – Police Crime Prevention Coronavirus Update
Hampshire Police have issued a Crime Prevention update, which includes advice on new areas of potential crime relating to the Coronavirus outbreak.
---
National Fraud News – Action Fraud Issue Alert Regarding Coronavirus Scams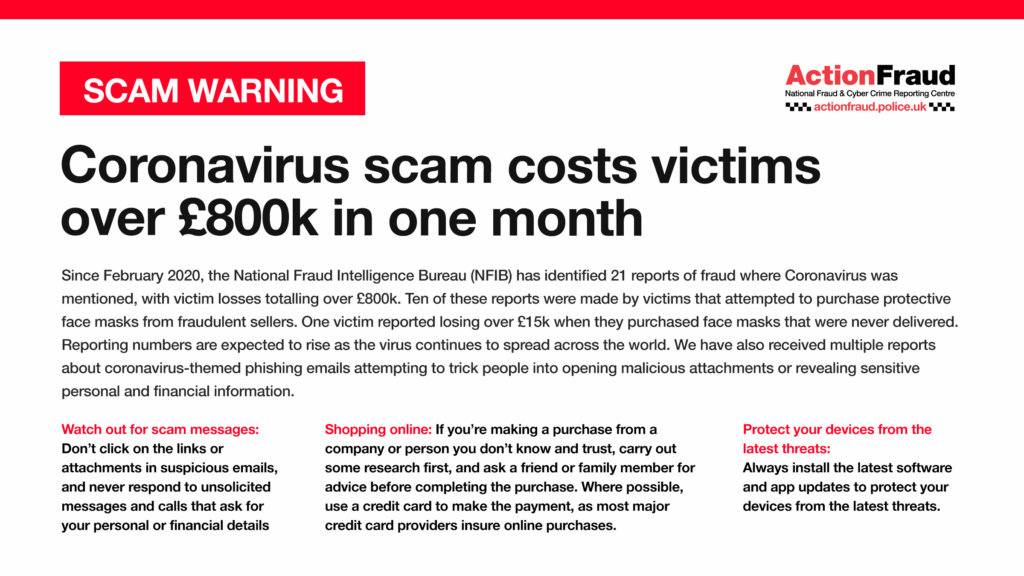 ---
Local Security News – Suspended Prison Sentence for Hospital Attack
A woman who launched an attack against the Police and NHS staff has been given a suspended prison sentence. Read more here…
---
National Fraud News – BBC Documentary – Spying on the Scammers
A recent BBC documentary explains the risks of scam telephone calls. Watch it here…
---
National Security News – Secretary of State speaks out about violence in the NHS
Matt Hancock, MP and Secretary of State for Health and Social Care has written to NHS staff setting out his concerns about the problem of violence experienced by NHS staff. Read more here.
---
Local Fraud News – New Series of BBC Fraud Squad Commenced 3rd February 2020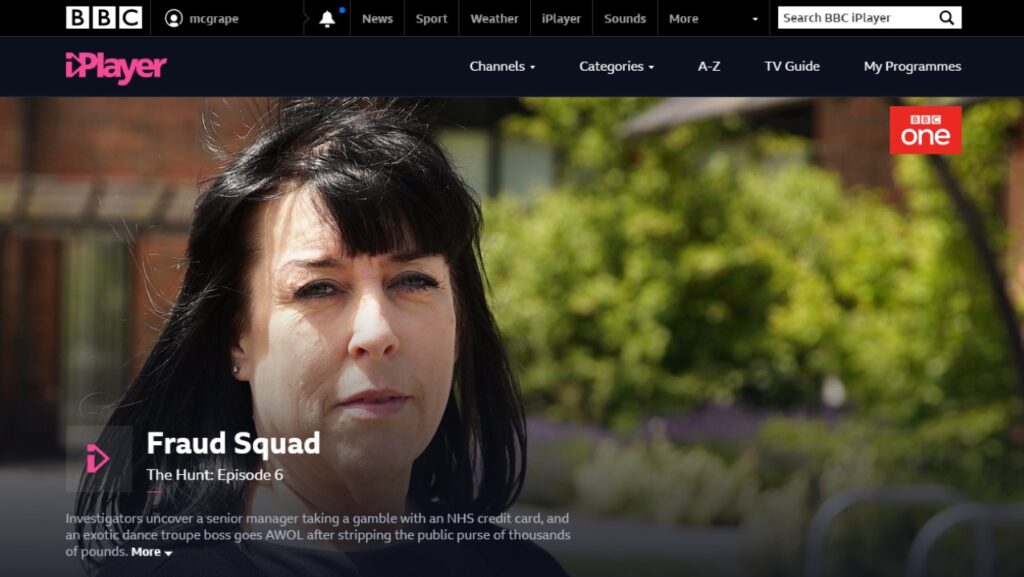 The latest series of Fraud Squad commenced on 3rd February 2020 on BBC1 at 9:15 am and episode six of this series features an investigation from Hampshire. The investigation was undertaken by the Head of the Fraud and Security Management Service and resulted in the imprisonment of a Procurement Manager who had been working at a local Trust.
The series provides a detailed look at the investigations undertaken by NHS and other government fraud investigators and the subsequent results when those cases reach court.
If you miss an episode it is available on catch-up services and on BBC iPlayer. The episode featuring the Hampshire case can be viewed here.
---
National Fraud News – Former Oxford University Hospitals CIO Sentenced for NHS Fraud
A senior NHS hospital manager has been sentenced to two years' imprisonment, suspended for two years, after he was found to have lied about having a degree. Read more here.
---
Local Security News – Woman Arrested at Local Hospital for Assault and Criminal Damage
A Southsea woman has been arrested on suspicion of assault, criminal damage and a public order offence, following an incident at the Queen Alexandra Hospital Emergency Department in Portsmouth on Boxing day.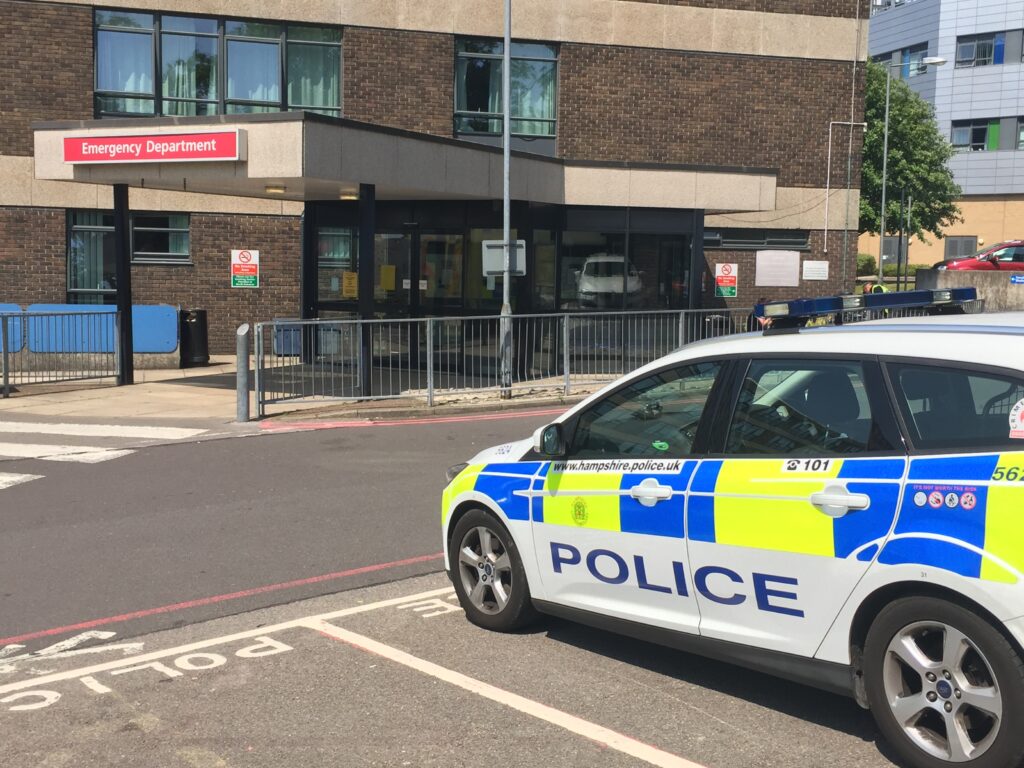 ---
Local Security News – Four Men With a Knife Arrested at Local Hospital
Officers were called to Queen Alexandra Hospital in Portsmouth after a group of men, one of whom had been stabbed, caused issues in A&E while waiting for a doctor. Read more here.
---
Local Fraud News – Mental Health Nurse Given Formal Caution for Fraud
A Mental Health Nurse working at a Hampshire Trust has been given a Police Conditional Caution after an investigation revealed that they had worked for another employer while claiming sickness pay from the Trust.
The Local Counter Fraud Specialist (LCFS) undertook an investigation and found evidence that confirmed that the Nurse had worked at a care home during a period of sickness absence between December 2018 and January 2019.
The Nurse attended a voluntary Interview Under Caution at Portsmouth Police Station in November 2019 and was questioned by the LCFS. They fully admitted making a false representation, contrary to the Fraud Act 2006, by dishonesty stating that they were unfit for work when in fact they had been working for another employer.
The Nurse's behaviour caused a £450.00 loss to the Trust, in the form of sickness salary payments that they were not entitled to. This loss does not take into account the additional staffing costs that were payable to temporary staff who provided care to vulnerable patients (over a crucial period) whilst the Nurse was absent.
It was agreed with Hampshire Police that a Conditional Caution was an appropriate sanction which would be held as a record on the Police National Computer (PNC). The subject was offered and accepted a Police Conditional Caution as an alternative to other criminal action. As a condition of this sanction the subject is required to repay the Trust the overpaid salary within 12 weeks or faces having to attend a Magistrates Court.
The Nurse no longer works for the Trust.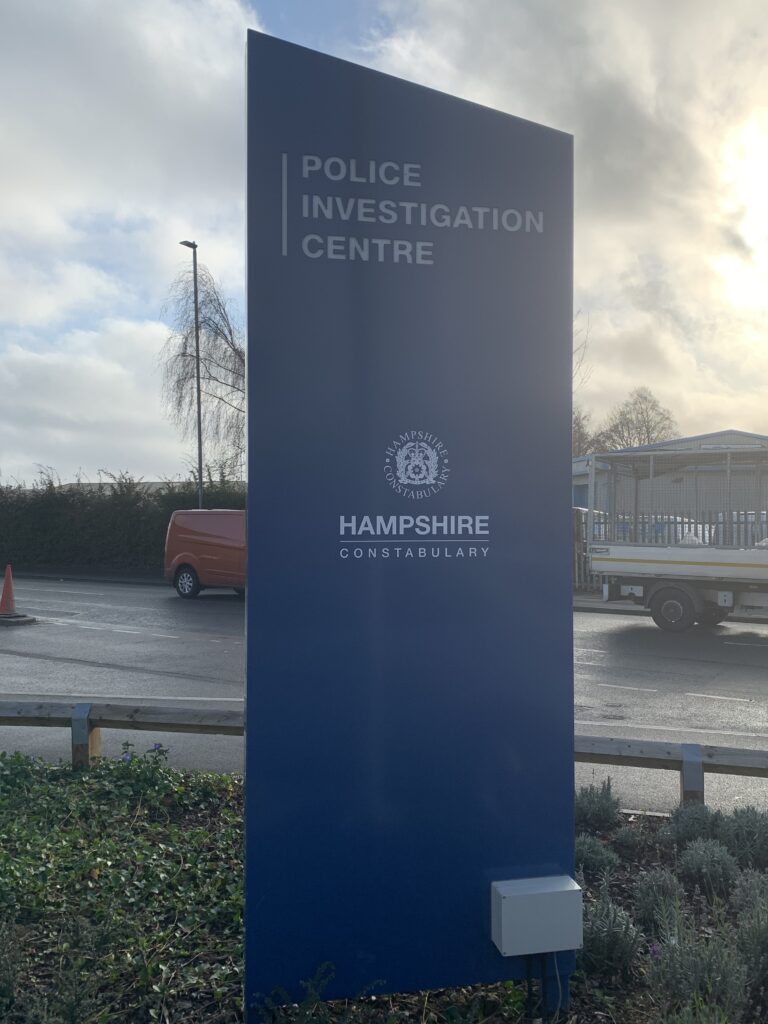 ---
National Fraud News – Ex-Oxford NHS Boss Admits Lying About Degree
A former NHS boss lied about having a degree, a court heard (BBC News). Full story here.
---
National Security News – GP Guilty of Sex Assaults
A GP who cited Angelina Jolie and Jade Goody to instill fear in his patients about their health has been found guilty of sexually assaulting 23 women. Read more here.
---
Local Fraud News – Police Caution for Working While Sick
A former NHS Trust employee in Hampshire was given a Police Conditional Caution in December 2019, after admitting working full time as a taxi driver during a period of sickness absence from the NHS.
The matter was referred to the Local Counter Fraud Specialist after the employee had been seen driving a taxi while they were known to be absent from work. The subsequent investigation revealed that they had worked for a private taxi company throughout the sickness period, working an average of over fifty-eight hours per week.
The investigation highlighted that they had lied to their managers about the work during the absence period and again upon their return to work. The employee was interviewed under caution by the Local Counter Fraud Specialist at Southampton Central Police Station in December and admitted an offence of Fraud by False Representation. They were given the Police Caution on the condition that they repaid the fraudulently obtained sickness pay to their NHS employer, totaling £1,131.25.
A further loss of £267.39 was averted as sickness payments for the following month were frozen once details of the secondary employment were known.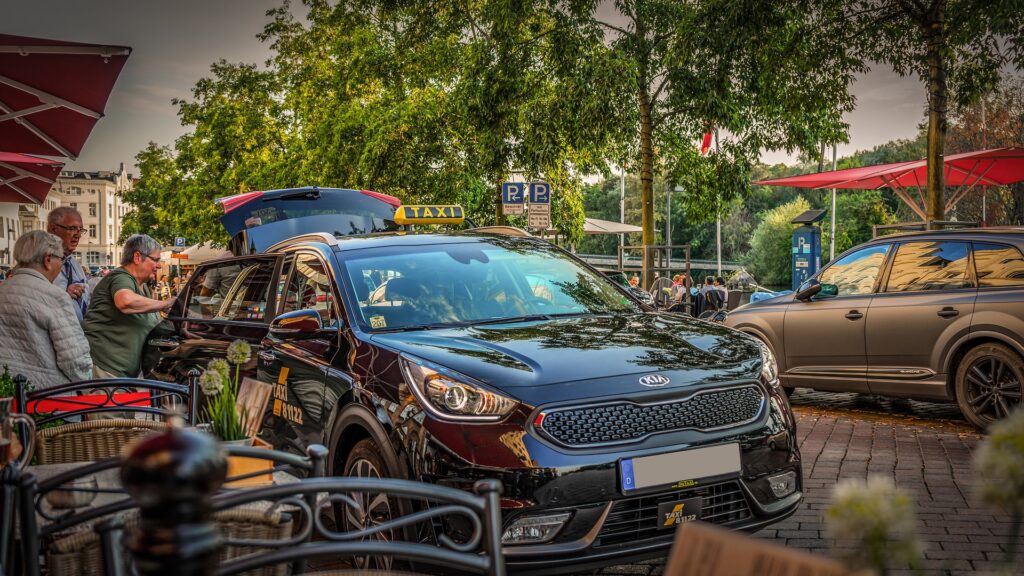 ---
National Fraud News – New Guidance Available to Prevent Fraud and Corruption in NHS Procurement
The NHS Counter Fraud Authority (NHSCFA) estimates the loss to the NHS from procurement fraud as £351 million (2017-18) each year.
To reduce the risk of procurement fraud, the NHSCFA has produced new guidance, in the form of eight fraud prevention quick guides covering the following subjects:
Contract splitting.
Contract reviews.
Buying goods and services.
Mandate fraud.
Credit card fraud.
Petty cash.
Due diligence.
Suppliers' code of conduct: preventing fraud, bribery and corruption.
Each guide includes a brief overview of the fraud risk, along with information on how to spot the fraud, how to stop it and how to report a suspicion of fraud.
The guides can be provided by your LCFS or from the NHS CFA website.
---
Local Fraud News – Support Worker Dismissed for £3,000 Timesheet Fraud
A Support Worker from Hampshire has been dismissed after an investigation by the Local Counter Fraud Specialist (LCFS) revealed that the Support Worker had submitted timesheets for work that they had not done. The Support Worker was employed by a local hospital and worked for a temporary staffing agency at the same hospital.
The fraud came to light when the Support Worker submitted timesheets for temporary work at the same time they were working their normal substantive contracted hours. The investigation uncovered that seven shifts overlapped and the support worker had received over £750 for work they had not done.
The LCFS interviewed the support worker at a police station where the offences were admitted. The support worker made further admissions that they booked every available shift and did not check that they had undertaken the work before submitting the timesheets. The full cost of the fraud was over £3,000 which the worker agreed to repay.
---
Local Fraud News – Domestic Assistant Given Police Caution
A Domestic Assistant at a local Trust was issued with a Police Conditional Caution on 30th October and is facing disciplinary action after an investigation by the Local Counter Fraud Specialist (LCFS) revealed that they had continued working as a cleaner at a private organisation during a period of NHS sickness.
They admitted the offence during an interview with the LCFS at Southampton Central Police Station.
The fraud resulted in the incorrect payment of £681.97 in sickness payments and it was a condition of the Police Caution that the loss is paid back to the Trust within eight months.
Because of the prompt action taken by the LCFS and the Trust, the subject's sickness payments were frozen the following month and a further loss of £1,406.50 was avoided.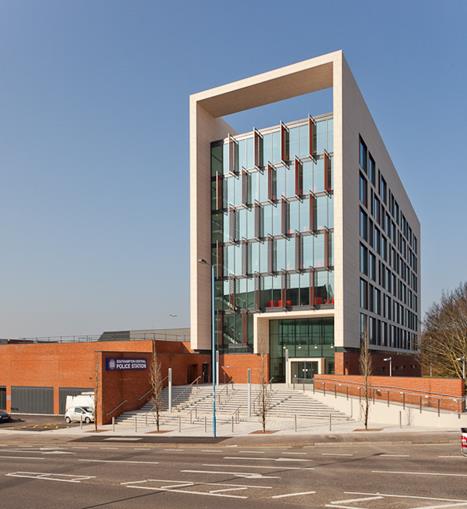 ---
National Fraud News – Pharmacy Director Imprisoned for Deliberate Overcharging
The director of a family chain of high street pharmacies in South Wales has been sentenced to 16 months' imprisonment for deliberately overcharging the NHS for medicines at one of his branches. More information here.
205 total views, 1 views today